BREAKING NEWS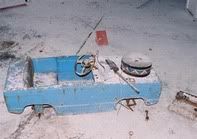 Visit Chernobyl by bike
I remember the huge antinuke demonstrations in Europe when Reagan took over America and talked tough. Alarmed, many Germans protested. Then Russia, bled dry by military adventures in the same places that are bleeding the USA dry, went bankrupt. Especially after the Chernobyl melt down. Many Americans like to think fondly that we brought down the Berlin Wall by being tough. Most Americans are unaware that the Germans made many deals with the Soviets prior to the wall falling.
Now the Cold War is gone. The hyper power that menaces world peace is American.
We have nukes in Germany
supposedly for war with Russia who is supposed to be our friend now, no?
TO READ MORE CLICK HERE