EDUCATION NEWS
The NYT Puzzles About Schools and How to Fix Them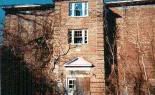 http://www.midnightsociety.com/web/abandoned/
"Are Our High Schools Obsolete?" asks the NYT.
Easy. They have been "obsolete" for a long, long time. I remember when I won a scholarship to go to school in Germany. Back then, the kids went to school six days a week and had much fewer days off than American kids. No long summer vacation for them!
I was a top student in America, took college courses on the side while in high school, played in not one but two orchestras, chorus and track team. I thought I was top of the top. I wasn't an exchange student, I was a full, for real Gymasium student!
Then reality hit: I was so behind everyone.
TO READ MORE CLICK HERE
AND----
Punitive Patriotism
http://www.theodora.com/flags/new8/flag_burning_1.html
While trowling about the web with my little net
I picked up this fish from New Jersey:
A movie from Indymedia
made by some high school students who wanted proof of their home room teacher violating the law trying to force students to stand and salute the flag. This video also shows a teacher unable to project authority. He seems to be a skinhead teacher who barks orders. Imagining the school is a military facility, I presume.
TO READ MORE CLICK HERE
AND___
Computers Interface With Kids Better Than Teachers
http://news.bbc.co.uk/2/hi/south_asia/4498511.stm
When my son went into special ed when he was only three years old he had trouble communicating with humans. The school had an Apple computer, this is many years ago. He spent about five minutes with it and bonded. It was astonishing watching this "learning disabled" child glom onto the computer and merge. He just...did things with it. The teachers who were supposedto instruct him ended up asking him for assistance with their own computers. This amused and amazed me.
Seems I am not the only one to think that maybe computers are different from all other forms of learning.
TO READ MORE CLICK HERE