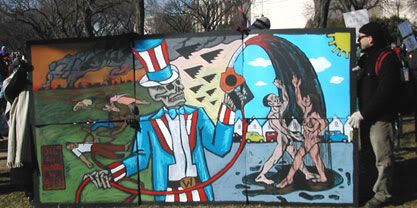 It is all so queer, living in the USA, if there wasn't a world wide web, we would be blissfully digging our own graves singing, "Whistle while you work." Luckily, we get real news real fast these days and the American corporate machinery just can't suppress all of it. Today, I scan the news and see so many items, I wonder if my blog should be 1000 times bigger, it seems the rulers of America have unleashed such a sh*t storm of lies and fabrications and crimes, it is nearly impossible to keep up!
So here is yet another one:
From the Brits, natch,
US lied to Britain over use of napalm in Iraq war
American officials lied to British ministers over the use of "internationally reviled" napalm-type firebombs in Iraq.
TO READ MORE CLICK HERE