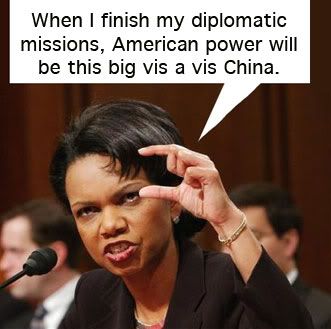 By Elaine Meinel Supkis
The propaganda machine in America whirls on.
From the Washington Post
:
Now six months on the job, Rice has clearly wrested control of U.S. foreign policy. The once heavy-handed Defense Department still weighs in, but Rice wins most battles -- in strong contrast to her predecessor, Colin L. Powell. White House staff is consulted, but Rice designed the distinctive framework for the administration's second-term foreign policy.
TO READ MORE CLICK HERE