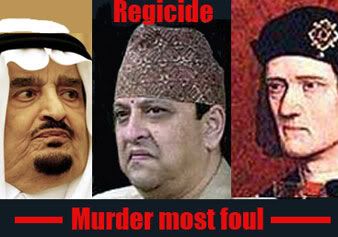 King Fahd (took over after relative murdered King Faisal) King Gyanendra (mysterious mass murder of brother's entire family) and King Richard III (murdered his nephews who were to be crowned before he).
By Elaine Meinel Supkis
I vividly remember when the Nepal Royal family was machinegunned down while dining. It was on the BBC news. I immediately said, "Did they kill the evil uncle? If not, he did it." When the details came out, it confirmed my fears. Seems all the family members of the evil uncle suddenly had to either leave the room or had urgent business elsewhere and only the king, queen and their children and attendants were in the hall when all were gunned down.
TO READ MORE CLICK HERE