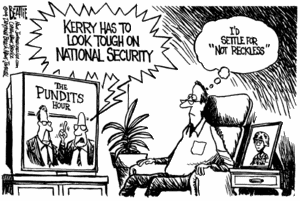 A cartoon from last year. Haunting, no?
Even as the British desperately try to dig out the last bodies from the collapsed tunnel in London, the crimes of the Bush people pile up. Every time they wanted something political, they would assist terrorists.
The latest example now emerging from the smoke and taking shape concerns last year's election. Kerry was going to make his acceptance speech. Callowly, Bush connived with the head of Homeland Scardycats to up the terrorist alert to yellow. So just before Kerry spoke, the spooky people in this administration (sic) held a press conference designed to give everyone the willies.
TO READ MORE CLICK HERE