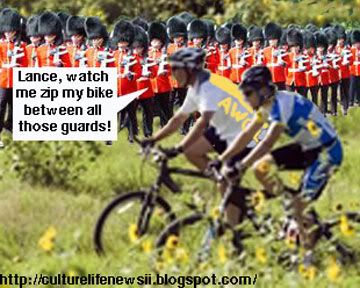 By Elaine Meinel Supkis
Bubble Boy bicycles with a bunch of ditto heads and a bike champ. He is fit and happy and having a lark and didn't run over any Bobbies because they were at the Bush ranchette.
From AP:
The leader of the free world (sic) and the world's biking master rode for 17 miles on Bush's ranch for about two hours at midmorning. Bush showed Armstrong the sites of the ranch that he calls "a little slice of heaven," including a stop at a waterfall midway through the ride.
TO READ MORE CLICK HERE