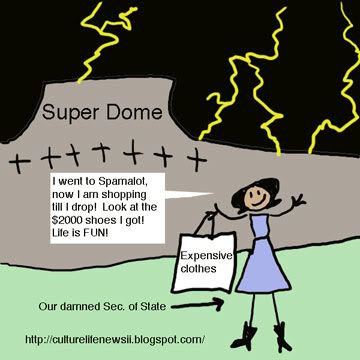 Sorry about the crude toon. I was crying too hard.
By Elaine Meinel Supkis
From one of the great posters at Atrios!

According to Drudge, Secretary of State Condoleezza Rice has recently enjoyed a little Broadway entertainment. And Page Six reports that she's also working on her backhand with Monica Seles. So the Gulf Coast has gone all Mad Max, women are being raped in the Superdome, and Rice is enjoying a brief vacation in New York. We wish we were surprised.
TO READ MORE CLICK HERE