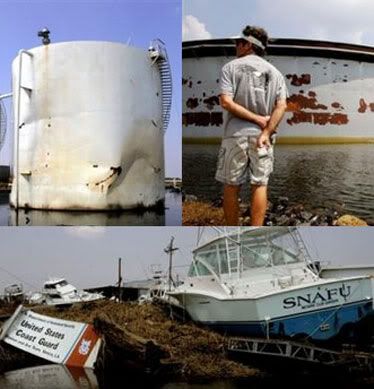 Damaged oil tanks, damaged port from Yahoo.
By Elaine Meinel Supkis
A few hours ago, there was happiness that oil prices were "dropping." The usual juvenile dance and song rang out. Even as the media pretends skyrocketing oil prices don't matter and don't cause inflation, they get giddy and silly every time it drops a few pennies after rising a few dollars. It is no longer possible to hide that something is very wrong. Look at the pictures above. Not only are the oil facilities flooded, they are leaking huge amounts of oil into the environment. Debrie from the tidal surge literally hammered the tanks. No one is showing the detailed pictures of the gas refineries nor the deep sea port where oil from Venezuela and Mexico are off loaded. This is all classified information.
TO READ MORE CLICK HERE