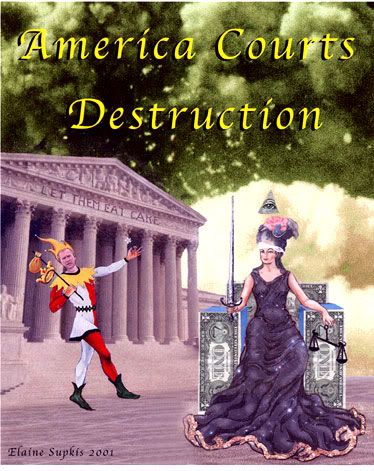 I made this cartoon after 12/12/00 in early January. This was inspired by the night the Supreme Court destroyed democracy and the Constitution. Yes, that is Marie Antoinette sitting as Justice and the cloud is the nuke that fell on Hiroshima.
By Elaine Meinel Supkis
This is what the death throes of a great empire looks like: chaos and death, loss of major cities while emperors giggle and fiddle. The world already was agast over our illegal and stupid invasion of Iraq and our funding of the New Berlin Wall in the Holy Land. They can't believe how incompetent and stupid our government is, how unwise, how irritable and bone headed and vicious. Like watching formerly civilized Germans fall into becoming Nazi criminals, no?
Only at least they could make the trains run on time and build highways.
TO READ MORE CLICK HERE